Home
›
About Gold
Thoughts about Bitcoin versus Gold
Anacap
Posts: 91
Copper ✭✭
Bitcoin is better than gold at being gold, as it copies it's natural qualities in an abstract form and add on top extra features that make it even more useful, as it's cheaper to move and hoard without intermediaries.
The biggest flaw of bitcoin is it's speed of transaction, while it still outplays VISA fees and Goldmoney network, it's speed doesn't. It's trendign to get slower due to more transactions competing to be first. On top of being slow, there's an exploit to re-send the same coins with higher fees so that action takes place before the previosu one, and that "double spending effect" prevents real world bussiness from trusting payment notifications instantly, as the deal might not finally happen. Yet, there are solutions offered by third parties that bring a solution to this problem like BitGo, with a small 0,01% fee, still far from VISA for busisnesses.
It can also evolve to different code directions to increase block's limits, but doesn't seem too likely at this point.
It allows freedom and individual responsability of your own savings safety, which is something great.
By natural selection, the markets and history has discovered and choosen gold as solution for money, so it's marginal utility is that of a currency, top notch. Bitcoin tends there too, and adds on top of all that more utilities that make it even more practical as a mean to trading.
The problem with cryptocurrencies
One could point that Bitcoin qualities are not really scarce, its code can be copied and launched in form of diferent cryptocurrencies. All that incredible qualities are not that special then. The value of Bitcoin then becomes as a result of any other standarization event. The standard for something doesn't need to be the best thing possible, only the first to change the paradigms. That happens in nature and in the markets.
Will something else disrupt bitcoin from its place? Seems unlikely.
Will bitcoin reach the volatility of gold (1,2% average)? It might take 20 years for that to happen, and so for gold to get back where it was after this bad economic weather.
It's highly speculative due to it's rewarding design for early adopters, and it will keep being so as soon as it's inflation stops and more people world wide may start adopting it to run from wealth extraction.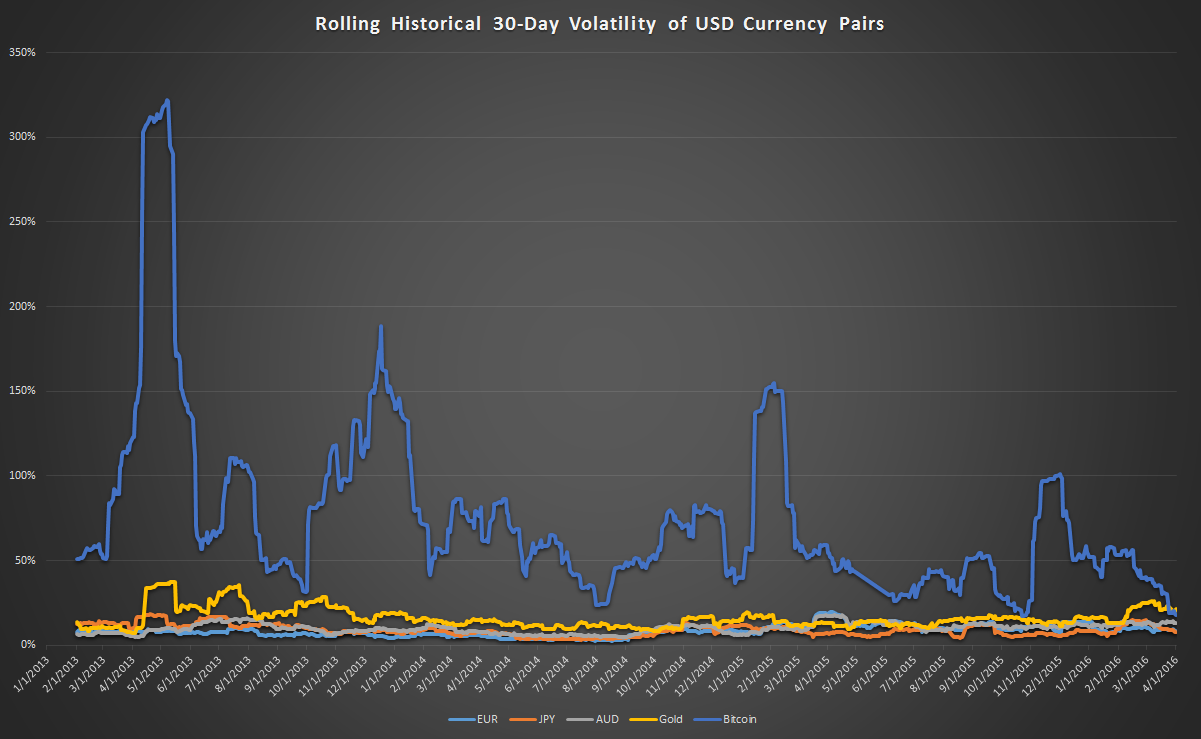 What is your perception of risk for bitcoin?
Understanding our economic system and how central banks do social engineering, I personaly don't see it riskier than bonds or stockmarkets before a following recession kicks in haha
I don't see it seriously competing with gold on it's own value on what it does best for at least a bunch of decades. Then might be different.
Tagged: